Sunday February 29, 2004 5:58 am
7 Weeks Old and Other Stuff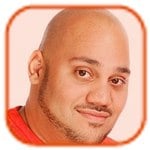 Tweet
Posted by Andru Edwards Categories: Alijah, Personal
This entry written by Monica Edwards:
It is now February 27th, and Alijah is 7 weeks old today. He has come a long way in such a short time. He is up to 5 lbs now and about 17 inches long!! God is so good and so faithful. We are so amazed at everything he can do, its a small miracle, every moment of his life.They have weaned him off of morphine to just a few doses every now and then when he gets stressed so he is so much more alert now and has his eyes open for longer stretches. He is so curious about his surroundings and so at peace now that he is getting a little older.
He should be off the respirator soon at the rate that he is going, and then once he gets feeding down, on his own, then he is ready to come home. We have been waiting for that time so anxiously but yet I am kind of nervous and scared. We wont have all the monitors at home to let us know if hes breathing ok, no heart rate to look at on the screen to let us know if hes stressed, no nurses to help us when we feel overwhelmed. I mean , I know that we will be able to handle it, God will help us through it all, but as a mother I want to know that I am doing everything I can to make him feel comfortable and I havent done this in 9 years and I dont know how I did it then.
I know Andru and I will just trust in our Father and get through this together so I should not worry. He has carried us this far and He will not let us go now.
I pray that having Alijah home will allow Tommy to be able to bond with him on a level I could not imagine. I remember being a kid and wanting a big brother more than anything and I know that Alijah will be running after Tom as soon as his liitle legs will allow him.
Tommy is pretty unsure of how he feels about his little brother but that is to be understood, he hasnt had a chance to hold him or see him much so I hope that Andru and I will be able to help their bonding.
As far as everyday life, I am back to work, just starting to work about 3 days a week to start, so that we can make some headway on all of these bills starting to roll in, let alone all the ones we had before all of this, imagine I would still be pregnant right now, with one more month to go, its going to be an uphill battle unless we strike it rich in the lottery, but you gotta play to win they say.
So…I will be working about 24 hours a week till Alijah comes home, it cuts down on the time I get to spend with him but we need to be able to stay afloat also. We are driving about 300 -350 miles a week back and forth to the hospital every week, sometimes more and gas unfortunately is not cheap, better than this summer but not much.
I am grateful though that he is at the hospital that he is in. The staff is wonderful and treat us very well. They explain everything to us and always try to answer our questions so we are really blessed to have been sent there.
In other news I had another birthday and my friends The Bowmans, Sr.. and Jr. family gave me a little party which was very sweet of them, its nice to feel like we have a family when ours are so far away.
Andru and I attended a Christian concert last night, part of my valentines gift, but also I feel like it was a bday gift because we had a great time. We say the Newsboys and Rebecca St. James, missed Jeremy Camp but it was still great. Then Andru took me to stay the night at a nice little hotel so we wouldnt have to drive all the way home from Seattle.
It was a good bday. I got to hold Alijah for kangaroo care again for about two hours and they moved him to a crib so that was very exciting to me.
Now, its late and I need to go to bed, after rambling on, so I say sayonara until next time.
- Monica
© Gear Live Media, LLC. 2007 – User-posted content, unless source is quoted, is licensed under a Creative Commons Public Domain License. Gear Live graphics, logos, designs, page headers, button icons, videos, articles, blogs, forums, scripts and other service names are the trademarks of Gear Live Inc.