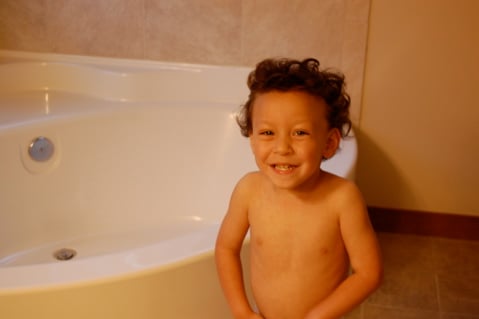 So, in the image above, you see how Alijah looked when my wife Monica left to do a little shopping. When she gets back, he will look very different. Check the new image after the break. Leave your comments…
Click to continue reading Alijah's New Haircut!
Monica always tells me how much Alijah's personality is like mine. Not totally, but his little intricacies and nuances. I agree mostly, but the issue he had last week took the cake. He is totally in love with Cars, the Pixar movie. He has probably watched that movie in excess of 25 times. Anyway, when he last watched it, he wasn't happy with the movie for some reason. He kept asking for it to be turned on, despite the fact that it was playing right in front of him. Monica didn't understand his issue until she realized that the movie, which is widescreen, was being played in full-screen 4x3. At three years old, Alijah knew that this particular movie was not a pan and scan feature, and should thusly fill the entire screen. However, when he is actually watching 4x3 content, he is fine, so it isn't something where he wants everything to be widescreen. Very funny, as he is becoming a little version of me - a miniature technophile, if you will.

This is just too cute. Alijah cuts a rug on the dance floor at Chris and Ponzi Pirillo's wedding after much coaxing. He shakes his groove thang so well that he is even approach by Lila, daughter of our friends David and Cathia Geller. What you don't see is him running away when he realizes she is asking to dance with him. Bonus points go out to Jesse and Brenda, the two dancing fools you see in the video with Alijah.
My little guy is getting all grown up (comparitively speaking.) When Alijah turned three, we figured we would have him try his luck at destroying a pinata. He needed a little help, but in the end, he did it. Oh, and why we hung it from a freaking Swiffer? Please…don't ask. It wasn't my decision. I love how in the middle of the video, he starts getting noticeably tired, but we keep cheering him on, as if we were deep into the child labor industry.
Oh, and we don't still have the Christmas tree up. Alijah turned three back at the beginning of January.
So, while I was preparing to post a smattering of images from my trip to Puerto Rico, which is just an amazingly beautiful place, even at this time of year, I got a call that meant leaving immediately despite only being here for 3 out of 9 scheduled days. My father, George Budabin, was diagnosed with lung cancer some months ago. I will go into more of those details in my next post more than likely, but suffice to day, things aren't looking good. I am sitting here in the airport getting ready to board a red-eye flight into NYC's JFK airport so that I can be by his side as soon as humanly possible. I just got off the phone with his, and as he lay in his hospital bed, too weak to even hold the phone to his ear on his own, he had just three things to say to me before he was too tired to continue. Mark my words, I will never forget them:
1) I am proud of the man you have become, and the man I know you will be.
2) Thank you for loving me, and for allowing me to love you.
3) Thank you for Alijah.
Of course, I had more than a few things to say back to him - but it is impossible to fit what would take you hours to say into a 20-second increment of time. There is just no way I can tell this man - my father - what he means to me, and how infinitely grateful I am for all the ways that he has fought, sacrificed, loved, and guided me to make me who I am today. I just can't.
Update: My father, George Budabin, passed away on Tuesday, December 19, 2006.
We had a birthday party for myself and my friend Jesse. Aside from having all our friends dress us up like robots (as in, the ugliest robots ever,) we filled the bathroom with balloons so that the first person who had to go would likely wet themselves from the shock. During the filling of the bathroom, my son Alijah was having a good time in there. Take a look.
This one goes out to my grandmother - Alijah's great grandmother - for her 75th birthday. Alijah wanted to send her a special birthday wish after practicing for a couple of days.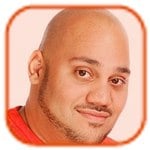 Posted by Andru Edwards Categories: Alijah, Videos
Alijah know his parts! Check out this video to see him show you around his head, face, and tummy. Oh, and I know - every other kid to ever exist has probably done this, but this is cuter, mmkay?
Alijah loves shows like American Idol and So You Think You Can Dance. Tonight, he showed us that he thought that he could dance! Check out these smooth moves…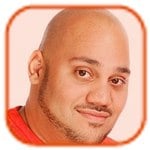 Posted by Andru Edwards Categories: Alijah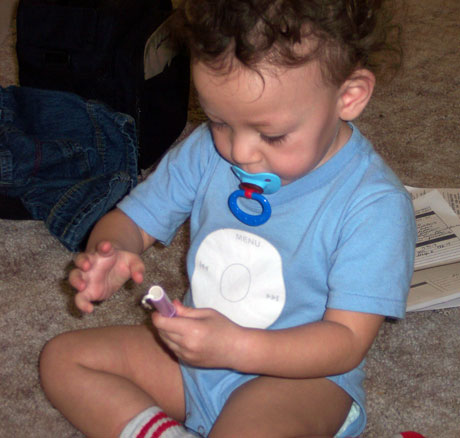 Of course, the first thing he pulls out of Mommy's purse is a tampon, which he unwrapped in record time and began playing with. Maybe he thought it was a rocket.
© Gear Live Media, LLC. 2007 – User-posted content, unless source is quoted, is licensed under a Creative Commons Public Domain License. Gear Live graphics, logos, designs, page headers, button icons, videos, articles, blogs, forums, scripts and other service names are the trademarks of Gear Live Inc.